Hard to punish corruption in Dominican Republic: Prosecutor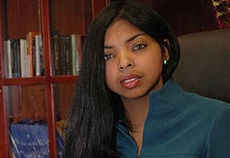 Y.B. Reynoso. File.
Santo Domingo.- National District prosecutor Yeni Berenice Reynoso affirmed Tuesday that the Dominican Republic has to be one of the countries where it's most difficult to investigate government corruption cases.
"For the Justice Ministry, investigating cases of corruption is not easy. Dominican Republic must be one of the most difficult countries to investigate cases of corruption," said the official
She said one of the reasons why such investigations are delayed is because the institutions that are asked for the information, take time to provide it or don't at all. "It's not so easy to get an indictment in a case of corruption and, later, at the judicial level, the deferrals come and the motions are endless."
Interviewed on "Morning Focus," Reynoso lamented that sometimes the Justice Ministry has had to go to court and serve a subpoena for information.