Immigrants' rights : Haitians being deported en mass, EFE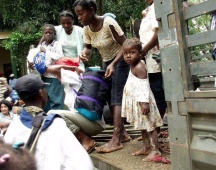 Deportation. File
Santo Domingo.- Defenders of immigrant rights in the Dominican Republic on Wed. expressed concern over alleged mass deportation of Haitians, while authorities announce bolstered border to halt the entry of undocumented aliens, EFE reports.
As reports of a rising flow of undocumented Haitians mount, organizations which defend immigrants' rights reiterate that there's a mass deportation of immigrants, many of whom, they affirm have documents.
"We call on the government to make a quick decision because there are many of those people who were regularized, but they are being deported," said Joseph Cherubin, head of the Haitian Workers Socio-Cultural Movement (Moscta).
Cherubin referred to the immigrants who registered for the so called National Plan to Regularize Foreigners, in effect since 2014.