Does the country have enough doctors?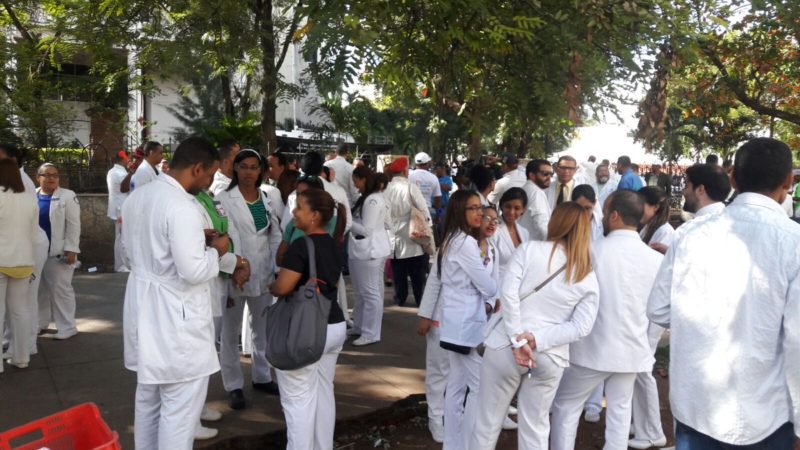 Dominican doctors (image hoy.com.do)
Santo Domingo.- The Dominican Republic is approaching the target number of doctors recommended by the World Health Organization (WHO) to meet the demand for medical services, but most doctors are based in Santo Domingo and the neighboring provinces.
The WHO establishes a target of two doctors for every one thousand inhabitants.
According the president of the Dominican Medical Association, Waldo Ariel Suero, the deficit in the hospitals exceeds 2000 doctors. The system as a whole requires 3,500 professionals.
National Health Service (SNS) director Nelson Rodríguez Monegro says that based on the WHO recommendation the country needs 20,000 doctors, as the total population is 10 million. He estimated that 500 to 700 should be training every year.
There are 16,532 doctors on the official government payroll, but the total is more than 20,000, if the doctors working at the nine self-managed hospitals are included.
Rodríguez Monegro, who has studied the issue, said that most doctors are concentrated in the National District, Santo Domingo, Santiago, San Francisco de Macorís, San Pedro de Macorís, La Vega and San Cristóbal. This is due to their specialties, the technological facilities and the different levels of development in the country's regions.
Doctors tend to practice in provinces where a good quality of life and the ability to exercise their specialty are guaranteed.
There does seem to be a sufficient number of doctors if one takes into account that 28,000 medical students are enrolled at three of the main universities.
Nonetheless, the number of existing doctors should be analyzed at provincial and municipal level in order to get an idea of the number of professionals required, says Rodríguez Monegro.
The government says that 1,800 of the 6,500 health professionals who retired in November 2016 were doctors, but according to Suero none of them have been replaced, i.e., no vacancies have been created.
The medical association has 30,000 affiliates, because membership of the CMD is required for a doctor to be able to practice in the Dominican Republic.
The SNS payroll does not include the self-management hospitals: Ney Arias Lora, Hugo Mendoza, Reynaldo Almánzar, Centro de Educación Médica de Amistad Dominico Japonesa, Centro Cardio Neuro Oftalmologico y Transplante, Marcelino Vélez, Vinicio Calventi, the National Cancer Institute, and Professor Juan Bosch Trauma Hospital in La Vega.