Major cocaine haul in Azua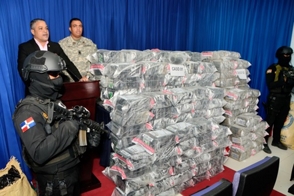 Confiscated drug packages on display (image from listin.com.do)
Santo Domingo.- Tactical units of the National Drug Control Agency (DNCD) have impounded 1,074 packets of a substance believed to be cocaine during two simultaneous operations along the coast of the southwestern province of Azua. Seventeen men, including five foreign nationals were arrested, and firearms and other evidence were confiscated.
According to the authorities, the first operation involved the interception of a speedboat containing 274 packages of the suspicious substance. After an exchange of gunfire, 14 men were arrested, including two foreigners, and several homemade weapons were confiscated, as well as fuel containers, cell phones and other items.
The second raid, also off the coast of Azua, ended with the confiscation of 800 packages, thought to be cocaine, inside the speedboat. Three foreign nationals were arrested during this operation.
The confiscated packages were sent to the National Institute for Forensic Science (INACIF) to establish the type of drug and confirm the exact weight.
The authorities informed that they have extended their investigations with the aim of finding other people who may be involved in both cases.