Clinics defy law by encouraging baby formula use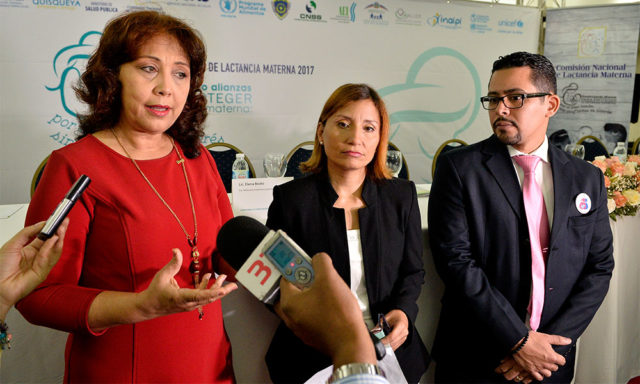 Launch of World Breastfeeding Week (elcaribe.com.do)
Santo Domingo.- The National Commission for Breastfeeding has found that several private clinics continue to encourage the use of baby milk formula for feeding newborns, which is a serious violation of Law 8-95 for the promotion of breastfeeding.
Commission coordinator Dr. Clavel Sánchez said that they would soon be releasing the results of a monitoring exercise carried out in several health establishments, which yielded evidence of violations of the legislation that promotes, encourages and protects natural breastfeeding, so that penalties can be applied.
Sánchez said that at just 4.5%, the country has the lowest rate of exclusive breastfeeding in Latin America according to the 2014 Enhogar survey, which she described as "shameful", adding that this could be turned around by establishing partnerships between different sectors to help improve the incidence.
The director of governmental early childhood program Plan Quisqueya Empieza Contigo, Larissa Pumarol, said that the Presidency Special Programs Directorate (Digepep) has placed breastfeeding on the national public agenda to establish and encourage this practice.
The official was speaking at the launch of World Breastfeeding Week, where Pan American Health Organization (PAHO) Family and Gender Health consultant Brigitte de Hulsters called on obstetricians to ensure that mothers breastfeed their babies during the first hour after birth and that the babies are not separated from their mothers after birth. She called on pediatricians to ensure that newborns receive colostrum that guarantees nutrition and the immunity provided by the first drops of their mothers' breast milk.
The United Nations Children's Fund (Unicef) joined the call for mothers to give their babies this nutrient that is essential for physical, emotional and mental development.