Fire affects North Coast hotel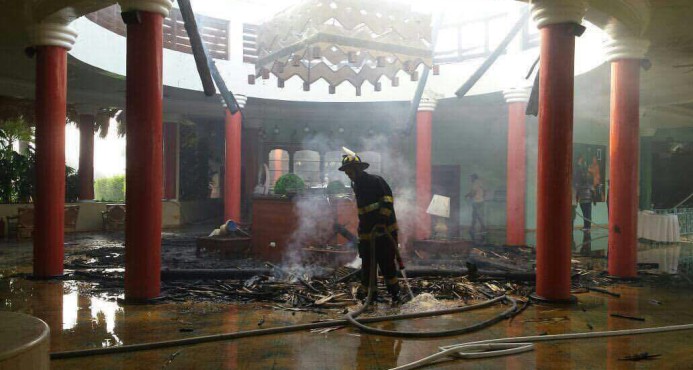 Iberostar fire (image from diariolibre.com)
Puerto Plata.- Dozens of tourists vacationing at the Iberostar Costa Dorada hotel were evacuated as an emergency measure Tuesday evening following a fire in the lobby area of the hotel, which is located next to the Playa Dorada complex.
Civil Defense director for the province Wascar García told reporters that the fire, whose cause is still unknown, started at around 5:00 p.m. and was extinguished by municipal firefighting teams from Sosúa, Montellano, General Gregorio Luperón International Airport, Air Force brigades from Puerto Plata, and local rescue organizations.
García said that the tourists and staff were moved to a safe area of the hotel while the flames were being doused. The fire affected the bar in the lobby and another area with palm thatch roofing. The Civil Defense director said that the guests or staff were never at any risk during the fire, and that the material damage will have to be assessed by the Iberostar Costa Dorada hotel management.
He pointed out that the new 911 system was used to call the Civil Defense in the municipality and the Fire Brigades to respond to the emergency as soon as the alarm was raised after the fire broke out.
The National Police Northern Region Directorate also sent motorized units to the scene to prevent bystanders from entering the hotel with criminal intent. Fortunately no vandalism has been reported.