Justice minister responds to Citizen Participation complaint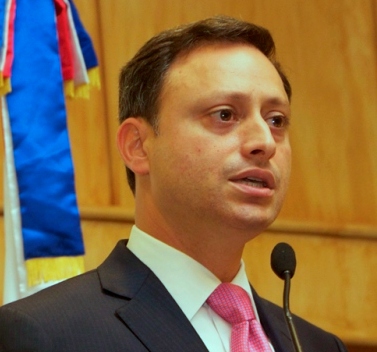 Justice minister Jean Alain Rodriguez
Santo Domingo.- Justice minister Jean Rodríguez responded to criticism from civic group Participación Ciudadana (PC) by reminding them that Brazilian construction firm Odebrecht has delivered "valuable information" certified by the Brazilian legal authorities ahead of the established deadline, and that this had enabled the Dominican legal authorities to move forward in its investigations into the US$92 millions in bribes paid by the company in exchange of being granted contracts in the Dominican Republic.
Rodríguez informed that the files provided by Odebrecht included "emails with instructions, fictitious contracts, testimonies from four of its Brazilian executives identifying Dominican public officials who were paid bribes, as well as cash transfers by overseas banks to their supposed commercial representative in the country."
He said that the evidence obtained through the agreement signed with the company led Supreme Court judge Francisco Ortega to issue the arrest warrants and coercive measures for ten of the 14 citizens who have been implicated in the case so far, including three legislators.
The data provided by Odebrecht also helped the high court to reject the objections presented by the defense lawyers for the accused, and the authorities were able to notify Interpol that accused no. 14 Bernardo Castellanos was overseas, and his coercive measures will be disclosed this Friday August 4th.
The Justice minister said that Odebrecht is still providing information through its Dominican affiliate, and the prosecution service is carrying out a series of investigative tasks based on this data, currently subject to confidentiality as established in the Penal Procedural Code.
Earlier this week, Participación Ciudadana asked the Justice Minister for "clear and precise information" on the level of fulfillment of the agreement signed between his office and Odebrecht more than three months ago. The civil society group said that Rodríguez was obliged to inform the country about the execution of the contract.