Odebrecht graft case: 14th defendant gets house arrest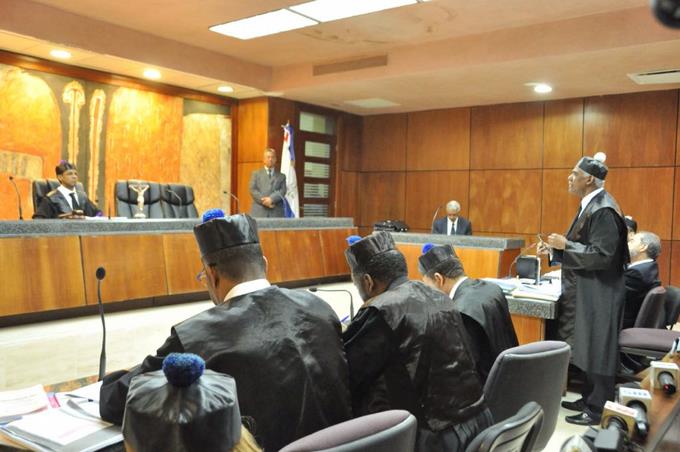 Court hearing for Bernardo Castellanos (image from listin.com.do)
Santo Domingo.- Supreme Court justice Francisco Ortega imposed a ban on leaving the country without authorization, set bond at RD$5.0 million and regular reporting for the former technical director of the Dominican Hydro-electrical Generation Company (Egehid) Bernardo Castellanos de Moya, the 14th person accused in connection with the Odebrecht case.
Castellanos de Moya is accused of accepting bribes in return for allocating the contract for the Pinalito dam construction project in Constanza to Odebrecht, along with the then-administrator of the Dominican Electricity Corporation, César Sánchez.
He is also required to report at the Specialized Prosecutor for the Prevention of Administrative Corruption the first Monday of every month (PEPCA) until the investigation process is completed.
The hearing was held separately from the other 13 accused in the Odebrecht case, as Castellanos de Moya was out of the country. He was arrested on his arrival from Guatemala via Panama on Wednesday.
Castellanos de Moya's defense team was given 20 days to appeal the decision.
State prosecutors had asked judge Francisco Ortega Polanco for Castellanos de Moya to be sent to 18 months in preventive custody while he awaits trial.
"The accused, Bernardo Castellanos de Moya, should be subject to the coercion measure consistent with preventive custody for 18 months contained in article 226, numeral 7 of the Dominican Penal Procedural code", said the prosecution.
The prosecutors, Carmen Amesquita, Milciades Guzmán and Francisco Polanco told the court that following an evaluation of the case they had come to the conclusion that the requested measure was the most appropriate for guaranteeing the presence of the accused in the process due to flight risk.
They also asked the court to declare the case complex, because Castellanos, known as "accused number 14" in the Odebrecht corruption scandal, had traveled to Guatemala via Panama to evade extradition, as Guatemala does not have an extradition agreement with the Dominican Republic.
State prosecutors also maintain that when the accused was out of the country he withdrew two US$20,000 certificates through his wife, two days after the other men accused in the Odebrecht case were arrested.