Venezuelan immigrants ask solidarity from Dominican Govt.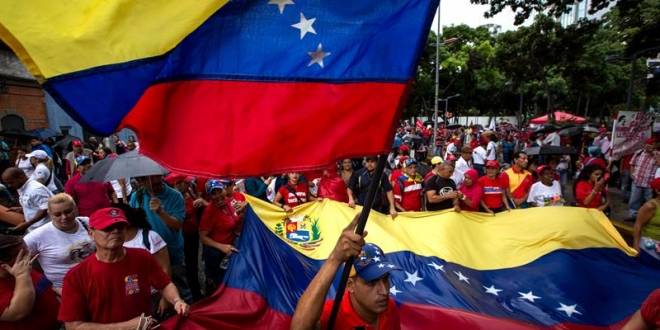 Venezuela protest by Chavistas. Photo elnuevodiario.com.do
Santo Domingo.- A group of Venezuelan immigrants in the country on Monday asked the Dominican Government to evaluate viable, realistic and solidarity alternatives for their compatriots in irregular situations who wish to reside here legally.
In a statement, the group said their immigration results from their country's biggest economic, political and social crisis ever.
They said they are being forced to leave Venezuela in masses despite being a country with a migratory history or culture, resulting from the crisis of food and health, as 8 out of 10 medicines aren't in the market, increasing infant mortality by 30% and maternal deaths 69%, an official inflation of 700% and a minimum wage that barely represents 20% of the basic staples.
Reading an "Open Letter," the group expressed appreciation to Dominican society' solidarity. "Most of the Venezuelans which have come to the country come with a desire to contribute to the development of this beautiful land. Count on our commitment to be a creative, entrepreneurial community so that the Dominican Republic is a better country."
"The lack of governance in Venezuela affects the normal conditions of everyday life and the development of us as citizens," said the letter.
According to the World Bank, around 19,000 Venezuelans have chosen the Dominican Republic as a destination to take refuge from their country's heightening crisis, encouraged by the two nations' historical and cultural bonds.