Scandals mark Dominican Republic leader's 5th year in office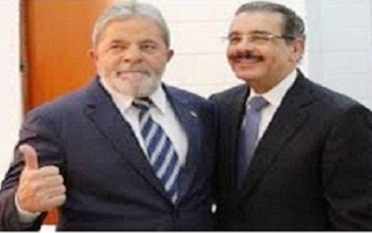 Former Brazil president Luis Inacio Lula da Silva visited Danilo Medina, to lobby for Odebrecht
Santo Domingo.- On August 16 of last year, president Danilo Medina took the oath for a second term in office, after a landslide win of 61.8 percent in the elections held three months earlier, after which the opposition parties denounced irregularities.
The main complaints were of the abusive use of State resources to promote his candidacy during the campaign.
Upon the start of his second term, and amid constant denunciations of the defeated parties, grouped in the "Opposition Bloc," one of the largest corruption scandals in Latin America began unfolding: the bribes of Odebrecht, for which a "structured operations department" was installed in the Dominican Republic .
Since January 22, citizens who denounced corruption and demanding an end to impunity began to mobilize around what they called the Green March.
The protests heightened to the point that the Green March forced the Justice Ministry to seek indictments for 14 people among lawmakers, politicians and former officials.
According to confessions by Odebrecht executives to Brazilian authorities, the company paid US$92.0 million in bribes to Dominican officials and intermediaries to obtain lucrative consruction contracts from 2001 to 2014.
One of the projects, the costliest, was the construction of coal-fired power plant at Punta Catalina, whose tender was denounced for allegedly benefiting Odebrecht, as well as cost overruns.
The Green March, which has staged rallies in several provinces to demand an end to impunity and corruption, has announced a protest at Punta Catalina.
During its massive march in July, the group even demanded president Danilo Medina's resignation and investigations of former presidents Leonel Fernandez and Hipolito Meja, as well as of other officials of the current administration.
Other major scandals:
Entire barrio for sale
'Sale" of barrio Los Tres Brazos, in Santo Domingo Este. uncovered in November 2016, when residents complained to Diario Libre that the company Titulatec was negotiating payment of RD$80 million for State lands.
Three deaths in San Pedro
A corruption scandal in other sales of government land at the State Sugar Council (CEA) in San Pedro de Macors where a disgruntled "buyer" shot and killed two radio hosts before turning the gun on himself.
Loan sharks in Govt. agency
David Rodriguez, a government contractor, took his life in a bathroom of the State Works Supervisors Office (OISOE) after being extorted to pay graft to secure timely disbursements.