Poll gives opposition leader a wide advantage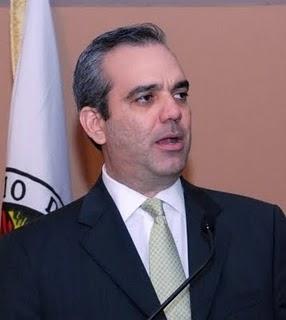 L. Abinader. File.
Santo Domingo.- Presidential hopeful Luis Abinader would win the opposition PRM party's convention with 75.9%, to former president Hipólito Mejía's 21.4%, according to a survey of the organization rank-and-file by the Cibao Economic Center.
The poll made August 11 to 14, found that Abinader would get 38.9% to former president Leonel Fernandez's 29.4%, if he were the presidential candidate of the ruling party (PLD).
It also found that if Mejia were to be the PRM candidate, would get 23.9% to Fernandez's 30.9%.
In the first scenario, minority party candidates Guillermo Moreno takes 9.1%, Minou Tavárez 1.6%, Pelegrín Castillo 0.4%, Soraya Aquino 0.1%, Elías Wessin 0.2%, none 16.9% and "don't know" 3.5%.
Non-partisan voters in addition to PRM members gave Abinader 49.9%, Mejía 17.1%, for either of the two 0.9%, for none 23.7% and don't know 8.4%.
The survey polled 1,400 people of voting age, with expanded samples of 400 interviews in Santiago and Santo Domingo Este, each. The poll has a confidence level of 95% and a sample error of plus or minus 2.6%.