Truckers park rigs near two major ports(Update)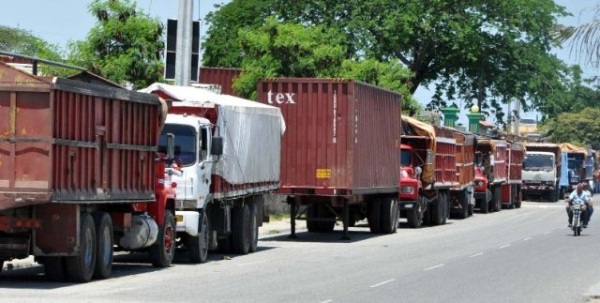 A file photo of a previous strike by Fenatrado at Haina Port
Santo Domingo.- Fenatrado has called off the walkout staged at Haina port since 6am Friday after reaching an agreement with authorities to release some of its members who are being held in Cotuí (northeast).
FILE.- Numerous tractor trailers of the union Fenatrado, were parked around Haina Port since early Friday, to protest the arrest of several of its members by National Police officers.
Port operations continue however, according to Port Authority director Víctor Gómez Casanova.
He said the port's facilities and surrounding streets are protected by the military and police officers,  to prevent a potential blockade.
"We spoke with the president of Fenatrado, the deputy Ricardo de los Santos, and we told him that we weren't going to allow a blockade of the access roads to enter the ports." The official said, noting that both Haina and Caucedo ports have been militarized.
Gómez said the Fenatrado president claims that 22 union members have been arrested, but that the police chief has explained that they are in custody charged with disorderly conduct and other infractions.
"The operations are flowing, the only thing is that Fenatrado has paralyzed its trucks and aren't hauling freight," he said, adding operations are normal with other companies, but reflect a significant drop in operation. "The entrances of the ports at the national level are taking place normally."