Police say four 'cop killers' killed in shootout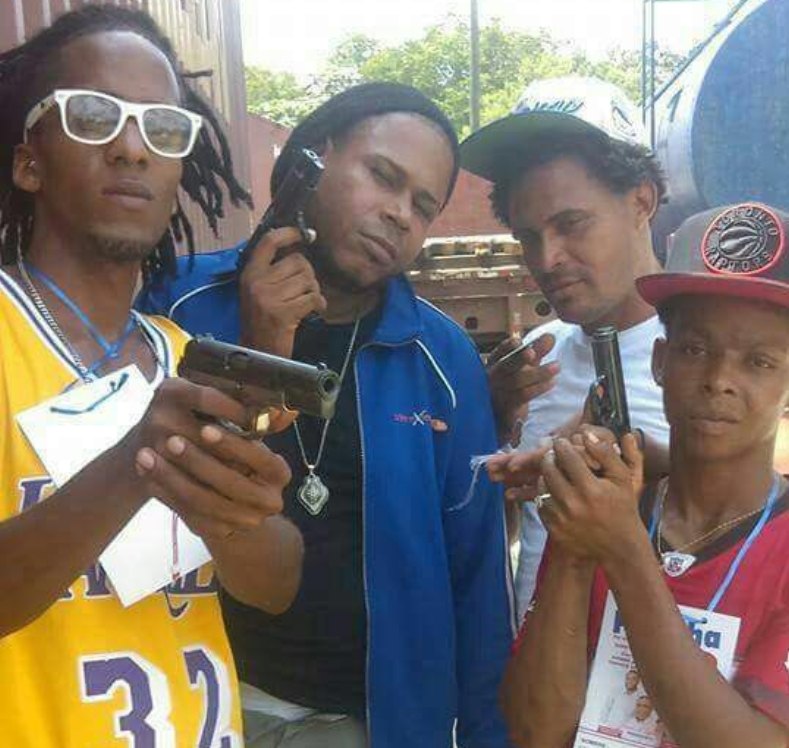 Maiki, Frendy Ortiz and Jairon Mueses brandish guns. Photo courtesy of eldia.com.do
Santo Domingo.- Police on Monday identified 12 members of the alleged gang operating in Santo Domingo Oeste, accused of killing police, military and veterans to steal their service weapons.
Police spokesman Nelson Rosario said four of the members of the "Mata Policias" (cop killers) gang were killed in Higüey (east) in a shootout while four are in custody and four are on the loose.
He identified them as Frendy Ortiz, Jairon Mueses, one known only as Maiki and one as yet identified, who carried a Bersa pistol stolen from Sgt. Enrique Ogando, killed last week.
Whereas Manuel Johan Rubio (Boca), Hamilton Antonio Rojas (Deja), Jesus Valenzuela (Malon) and Suandry Marrero are in custody.
Rosario said amid assaults last week the group murdered five policemen, a retired Army lieutenant and a civilian.
When asked about police officers linked to the gang, Rosario said that hasn't been determined thus far.
The Police however on Saturday announced the arrest of officers Nathanael Olivares Disla and Eddy Armando Tejada, charged with the murder, together with Delvy Agustín Paulino, of the agent Gustavo de la Cruz, in Herrera last Friday.