Defense chief, lawmakers discuss problems at border towns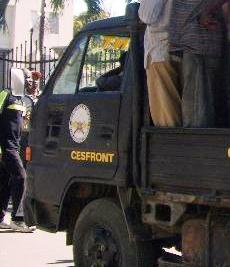 Santo Domingo.- The Chamber of Deputies Border Affairs Committee and Defense minister Rubén Paulino on Monday announced a program of visits to Dominican-Haiti border towns to inspect and deal with the issues affecting the area 's residents.
Santiago Rodríguez deputy, Nancy Altagracia Santos said the decision by the lawmakers and Paulino was made during a meeting, in which the border's main problems were discussed. "We asked the military high command to exchange ideas, coordinate and carry out joint actions to learn of and follow up on everything regarding our border."
The legislators from the provinces of Elías Pina, Montecristi, Santiago Rodríguez Bahoruco, Pedernales and Dajabón attended the meeting, along with commission adviser Manuel Amezquita.
In the meeting held at Armed Forces headquarters the deputies and the military official also agreed to consult with the people of the border communities on the situation that affects them.