Greens to charge Medina as 'corruption's 'main culprit'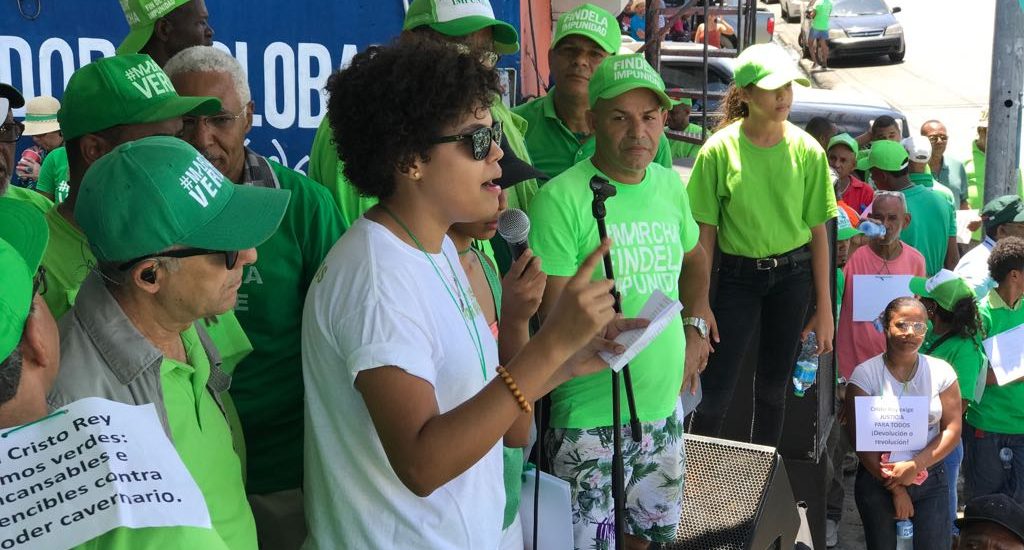 Green March in press conference. Photo elnuevodiario.com.do
Santo Domingo.- The grassroots movement Marcha Verde (Green March) t on  Sunday announced it will charge president Danilo Medina "as the main culprit of the regime of corruption and impunity.
It said they're preparing a criminal complaint against Medina. "This indictment of the President of the Republic will be based on the president's relationship with the multinational Mafia Odebrecht, the contracting of works such as Punta Catalina and its relationship with Joao Santana and the financing of its last two electoral campaigns," said Green March representative Ángel García.
"the exclusion of lawmakers and senior officials from the Toucan aircraft case, as well as the release of Ángel Rondón and Victor Díaz Rúa by Judge Francisco Ortega, confirm the political control that Medina exercises from the National Palace on the Justice and the deliberate weakness of the files submitted by the Public Ministry," Garcia said.
"The Green March condemns these actions, in addition to the agreement of impunity signed with the Mafia company Odebrecht, as well as the government's rejection of the citizen's demand to form a commission of independent prosecutors to carry out a judicial process capable of achieving that all those responsible for the different types of corruption implemented by Odebrecht will go to jail," Garcia said in a news conference.
Moreover, the Green March reiterated its demand to replace Justice minister Jean Rodríguez, for his "actions in favor of impunity and against the interests of the population from the Office of the Prosecutor."
They propose replacing Rodriguez, "with an independent professional, who doesn't respond to the mandates of the Dominican Liberation (ruling) Party (PLD)."