Dominican Republic Greens taken on the president, tycoon, bishop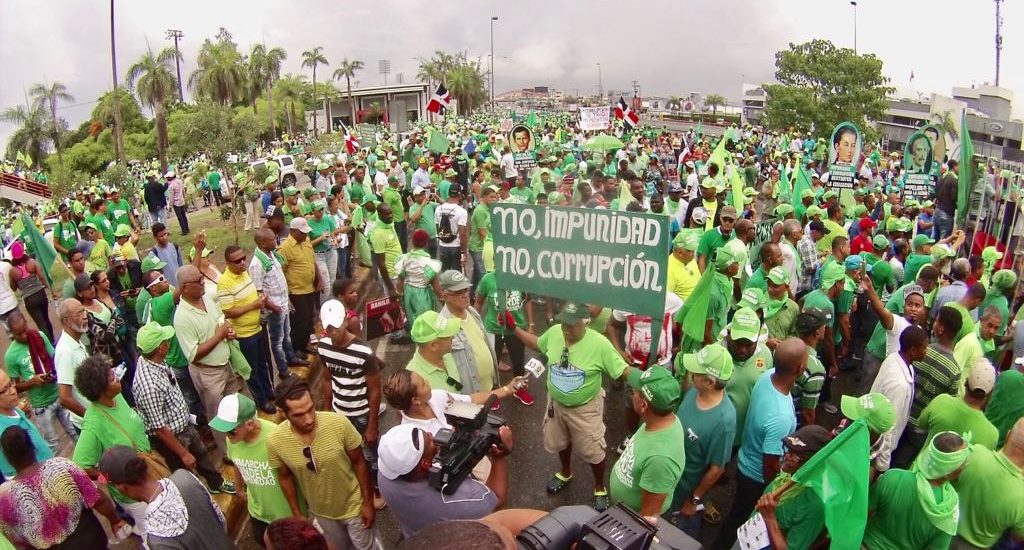 Bani, Dominican Republic.- The Peravia Province (south) Green March committee ono Mon. denounced what it  calls a dangerous maneuver at the Punta Catalina power plant site, which involves president Danilo Medina, tycoon Felipe Vicini, bishop Agripino Núñez, State-owned Electric Utility CEO Rubén Jimenez Bichara, plant manager Jaime Aristy, and Brazilian contractor Odebrecht.
"The main objective of this maneuver is to again embezzle the Dominican people for the sum of 708 million dollars, more than 33 billion pesos that Odebrecht is claiming, as additional costs and that Rubén Bichara and the CDEEE, want public opinion to believe, that they will not give not even a penny more to the multinational criminal with which they have a contract tied to profits for business groups and politicians who sponsor corruption and impunity," the movement said.
"In order to achieve its objectives, Odebrecht has laid off dozens of workers, threatened with massive firings, and encouraged clashes between workers of the various nationalities, seeking for blood to reach the river and thus getting more money from the Dominican people, on a basis to the blackmail of its partners Danilo Medina and Rubén Bichara for the many sensitive information it has on them about bribes, ballooned costs and illicit financing of electoral campaigns," the Green March aid in an emailed statement.
Groups of workers have shutdown the worksite at Punta Catalina since last Wednesday, demanding their return to work, claiming that they were terminated illegally.