Dominican Republic energy chief calls coal-fired power plant 'clean'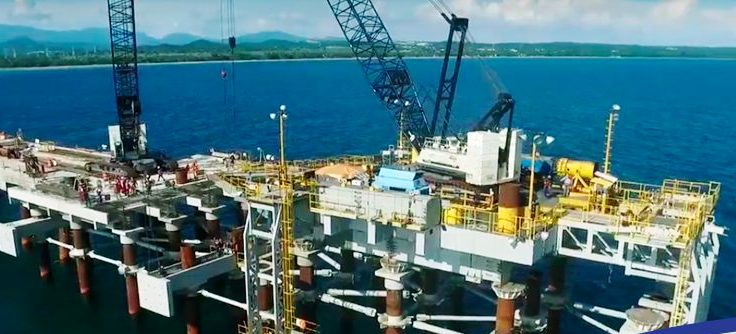 The dangerous US$2.1 billion behemoth
Punta Cana, Dominican Republic.-  State-owned Electric Utility (CDEEE), CEO Rubén Jiménez Bichara on Friday said that the Punta Catalina 754 megawatt power plant will feature a have a fully sealed coal storage and transfer system, which he affirms will prevent carbon emissions to the atmosphere.
In addition, the installation of a system of filters of sleeves that will avert emissions of particles, smoke, rockash and sulphur , whose cost exceeds US$200 million, to strictly controls to preserve the environment and the natural resources.
The official said  that since the project's onset, the focus is on community social management, sustainable development and environmental management. "It was designed to be applied not only in the Catalina community but throughout the Peravia province and surrounding areas."
"The plant will have a permanent system for the permanent monitoring of the emission parameters," Jimenez said at the conference "Punta Catalina, Social and Environmental Responsibility," as part of the IX National Congress on Climate Change in the Development Agency Territorial, organized by the Dominican Federation of Municipal Districts (Fedodim) at the Barceló Palace hotel in Punta Cana.
Jiménez said Punta Catalina will include components which although not essential to operate a plant, are important so its environmental impact is minimal, in addition to the storage from the port, of all pulverized coal that will fuel the plant
"The Punta Catalina project has also been involved in social responsibility plans for the literacy of Catalina's residents in Peravia province, as well as the training of thousands of young people in different technical areas who are immediately employed in the project but who will also be able to carry out work to other companies or for their own businesses."
The official added that over 7,000 people currently work in the construction of the plant set to come online late next year, "based on a fuel that is cheaper and less polluting than petroleum products."
Hazardous ashes
As for the hazardous fly-ash produced from the combustion of coal, Jimenez said it will be deposited underground, but "several industries have already expressed their interest to buy it in its entirety to use it as raw material in their production systems." He didn't specify which companies expressed such interest.