Politico scoffs at joint Dominican Republic-Haiti police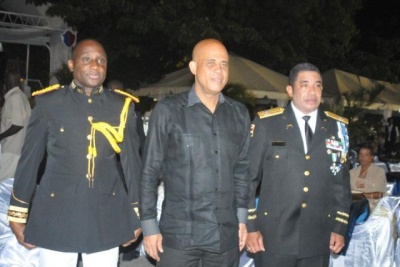 File photo of chiefs of police with former president Martelly
Santo Domingo.-  Conservative opposition FNP party president Pelegrín Castillo on Thurs. rejected the formation of a bi-national border police under Canadian management, security and surveillance after UN Peacekeepers leave the neighboring country, as the Dominican ambassador in Haiti affirmed Wed.
According to Alberto Despradel, Haiti and Dominican police work jointly to fine-tune the collaboration with the UN mission to strengthen cooperation aimed at preventing and repressing the various forms of crime.
However, Castillo rejected the creation of a border police under a concept of binationality and warned that if materialized, would be unconstitutional.
The former legislator and cabinet official said a real crime would be committed against the country. "The international community knows that Haiti is a failed state, and yet it intends that its problems be solved in the Dominican Republic, which in fact is the escape valve and buffer zone of the crises of its insular neighbor."
Castillo called on the citizens to take charge and organize to "militantly demand the defense of sovereignty and self-determination, territorial integrity and Dominican identity."
"The government is very vulnerable and dependent, it has no capacity to withstand those pressures, and what's worse, some hierarchies in the same understand that they can take advantages with attitudes of complacency, which have gone too far and are endangering the nation's permanent interests."