'Stone age' barrage widens ruling party chasm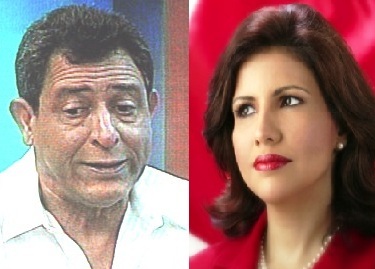 F.Jiménez, M. Cedeño,
Santo Domingo.- Vice president Margarita Cedeño on Thurs. slammed her ruling PLD party colleague Félix Jiménez, who "showed that he cooks himself in the resentment it causes him to see women stand out and be appreciated."
the statement by Cedeño, who like Jimenez, is also a member of the PLD's top echelon the Political Committee, comes one day after the also CEO of the Dominican refinery REFIDOSA, stated that "she only makes decisions on what they're going to cook at home."
Interviewed by ColorVision where he was asked about Cedeño's high numbers in the polls, Jiménez attributed it to the support as first lady and now as vice president.
He noted however that vice presidents have functions if the President assigns them and in Cedeño's case, "she decides what to cook at home."
"I refuse to believe that a man who claims to be a champion of avant-garde ideas is the author of such a stone-age expression, typical of misogynists and ignoramuses," she said a few hours later.
Rift
The brouhaha staged by two of the PLD's senior leaders reveals a widening chasm between the faction headed by former president Loel Fernandez, (Cedeño's husband), and the one led by president Danilo Medina, whose most vocal member is Jimenez.