In Dominican Republic's US$145.8M of fraud cases, 0 convictions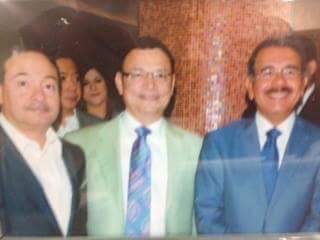 Jose Luis Santoro, fugitive in Peravia case; Miguel Pimentel Kareh, linked to the cse, with president Danilo Medina.
Santo Domingo.- Despite the whopping  RD$7.0 billion swiped in the country's latest financial frauds, those indicted have yet to be  convicted; most of whom are fugitives while others are free on bail.
The situation affects hundreds of people and includes entities that managed funds in the billions, including Banco Peravia, which is the most scandalous fraud.
Only 8 people were arraigned in that case, while 12 others are fugitives, with international warrants issued for their arrest.
Financiera L & L is the most recent fraud case, which involves Air Force Corp. Waldis Alexander Concepción, who's on the run. His wife Narkis Lorenzo López was sent to three months of pretrial detention for an alleged fraud of RD$200 million.
Row of scandals
Since the end of 2014 at least ten cases of fraud have been uncovered, prompting dozens of felony charges.
Peravia Bank: RD$1.4 billion pesos and12 fugitives; Financiera L & L; Financiera Inversia (RD$1.4 billion);Providencial Bank (RD$600.0 million); Rona Credit Corp. (RD$200.0 million), and Financiera Belgar (RD$500.0 million).
Also Financiera Morales Comercial (RD$2.0 billion) and La Financiera Americana in Santiago (RD$300.0 million.