15-car pileup backs up traffic on southern motorway, several hurt (Update)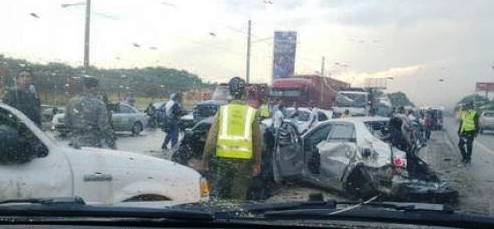 San Cristobal, Dominican Republic.- A dump truck loaded with gravel flipped over on the 6 de Noviembre highway, involved as many as 15 vehicles, with several people injured but with no fatalities.
FILE. Two tractor-trailers and seven other vehicles were involved in a pileup on the 6 de Noviembre highway Tues. morning, near the Santo Domingo Beltway.
There are no reports in injuries to drivers or passengers in the crash thus far.
Tweeted images by traffic reporter José Urtecho show the highway backed up for miles in both directions reaching as far south as the 30 de Mayo highway, and some spans of the Beltway as well.