International Human Rights Day: the country's public safety skid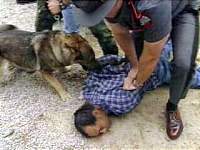 Brutality common
Santo Domingo.- International Human Rights Day finds the country on the negative ranking in public safety, violence against women, criminality and timid advances in respect for human rights by law enforcement agencies.
According to the Dominican Committee of Human Rights, crime is one of the most worrisome points. According to the World Health Organization, Dominican Republic is one of the 10 countries with the highest homicide rates; 30.2 per 100,000 inhabitants.
"The Dominican Republic has an average of 2,147 people with violent death. The statistic of the Attorney General's Office is that over 70 members of the public safety forces have been killed in 2017," said CDDH president Virgilio Almánzar.
They also note the deteriorated Judicial system as one of the areas with a daunting setback, with dozens of corruption cases inappropriately prosecuted.
Disagreement
Also of note are the extrajudicial killings by the National Police, this year, where human rights organizations don't see eye to eye.
While the CDDH says over 200 civilians have been executed by Police, the National Human Rights Council and the Human Rights Association Without Faces say "that old practice has been eliminated" since the arrival of the new  National Police director, Ney Aldrin Bautista.