Corruption costs Dominican Republic taxpayers US$541.0M yearly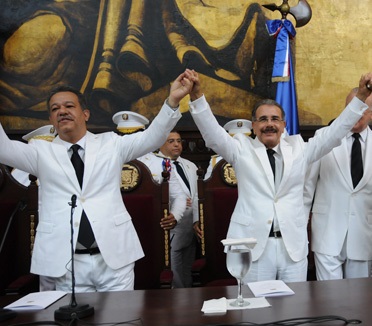 Former president Leonel Fernandez, president Danilo Medina
Santo Domingo.- Corruption costs Dominican Republic taxpayers around RD$26.0 billion (US$541.0 million) annually, or 0.7% of GDP in 2017 , according to the Oxfam study "Resources are sought to guarantee right."
The document warns that the figure is 3.5 times higher than what was allocated for initial education in this year's Budget and twice as much as was earmarked to supply drinking water.
It's also more funds than the budget for 10 Govt. agencies combined.
This figure was the result of an analysis into the warnings by various personalities, public entities and international organizations have voiced on the issue, such as Hotoniel Bonilla, who was Anticorruption prosecutor in 2010, who affirmed that the misappropriation of funds 10 years before then was around RD$104.0 billion.
Moreover, the then opposition (PRD) party in 2011 affirmed that in the first 10 years of the ruling party's (PLD) administrations corruption reached RD$400.0 billion.
However, the Oxfam report warns that the most alarming figure was provided by current PLD president, Leonel Fernández, in 1995, when he denounced that corruption took RD$30.0 billion every year; scandalous because by then the Budget barely reached RD$26.0 billion, or at around 14.2% of GDP that year.