Three sent to pre-trial custody in gang rape case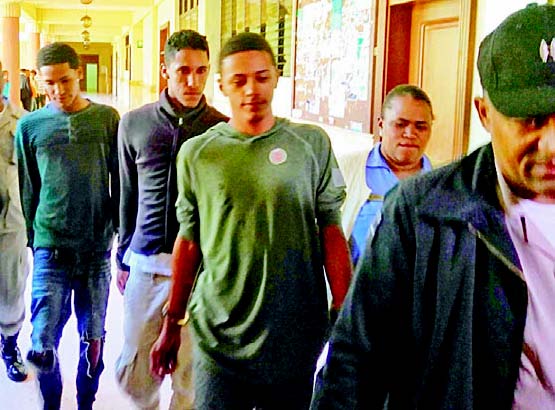 Accused to pretrial custody. Credit: hoy.com.do
Santo Domingo.- Judge Loyda Mejía imposed three months pre-trial custody on three of the accused of gang raping a Venezuelan woman.
Alexander Arias Tejada, Luis Manuel Mata and Anthony José Gómez will be held temporarily in the Palace of Justice. Lawyers Bernardo Jiménez, Robinson Marrero and Kilvio González, who argued that their clients were innocent, represented the accused.
Relatives of Anthony José Gómez assembled in the corridors of the Palace of Justice, saying that it was a coincidence that he was in the place where the victim worked as a waitress, and he gave her a ride home but was not involved in the attack.
The victim was represented by María Virgen de la Cruz of the Ministry of Women.
The Venezuelan woman reported that eight men raped her in an empty lot. So far only four have been imprisoned, including a minor who was sent to 30 days preventive custody on Saturday. The victim is calling for justice and complained of the inertia shown by the authorities.