Quisqueya stadium fire latest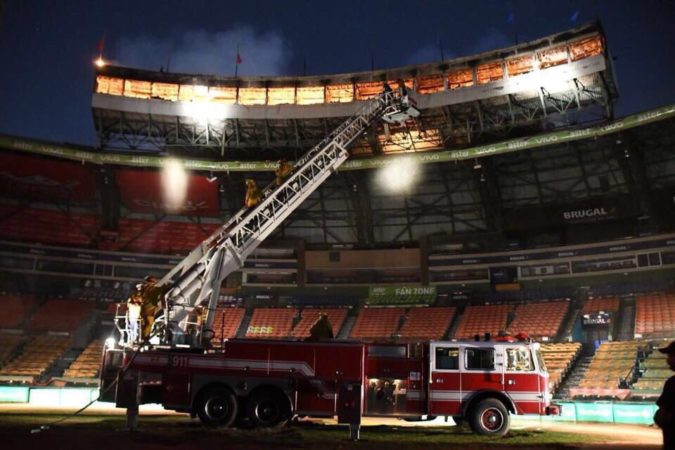 Quisqueya Stadium fire. Credit: hoy.com.do
Santo Domingo.- Wednesday night's fire that caused extensive damage to the press stands and cafeteria at the city's Quisqueya Juan Marichal stadium was caused by a short circuit that ignited the air-conditioning system, according to authorities.
National Baseball Commissioner Ricky Noboa said: "The fire broke out when an air conditioning unit started to emit smoke, apparently caused by a short circuit, and quickly spread to other areas with inflammable materials like plastics, carpeting and others."
He said that stadium staff tried to quell the blaze using extinguishers but the scale of the fire made it impossible. Noboa also revealed that the firefighters "arrived a bit late."
After more than 90 minutes the fire continued to engulf the "seventh heaven" as the affected area is known. Players from the Escogido and Gigantes teams, who were training before the game, were also evacuated from the pitch for safety reasons.
Sports minister Danilo Díaz visited the scene to inspect the damage. The home stadium for the capital city teams of the Leones de Escogido and Tigres del Licey was inaugurated in 1955.
The Leones, Tigres, Gigantes and Águilas Cibaeñas are playing in the semi-finals of the 2017-2018 championships.