Eight-year sentence for US man who abused boys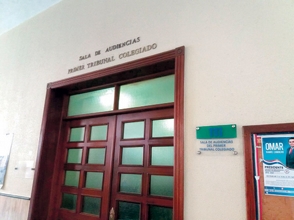 Courtroom entrance. Credit: listindiario.com
Santo Domingo.- A US citizen named as Loveall James Willis has been sentenced to eight years imprisonment after being found guilty of sexually abusing young boys he would meet in the area around Plaza Juan Varón, on the city's Malecón seafront boulevard.
Two of his victims, aged 13 and 16, told the authorities that the man had committed sexual acts in exchange for money, with payments ranging from 500 to 3,500 pesos.
"On one occasion Loveall James invited the minor, P.C., aged 16, on a trip outside the city and took him to the tourist areas of La Romana, Higuey and Bávaro for five days, during which he sexually abused him," said prosecutors María Cristina Benítez and Rosa Alba García Vásquez.
The charges against James were commercial sexual exploitation and psychological and sexual abuse, as well as crimes according to articles 83 and 86 of Law 631-16 on Control and Regulation of Weapons.
The court, presided by judges Ingrid Fernández, Delby Peguero and Altagracia Ramírez, sent Loveall James Willis to serve his sentence at La Victoria jail.