Stadium fire losses estimated at RD$20 million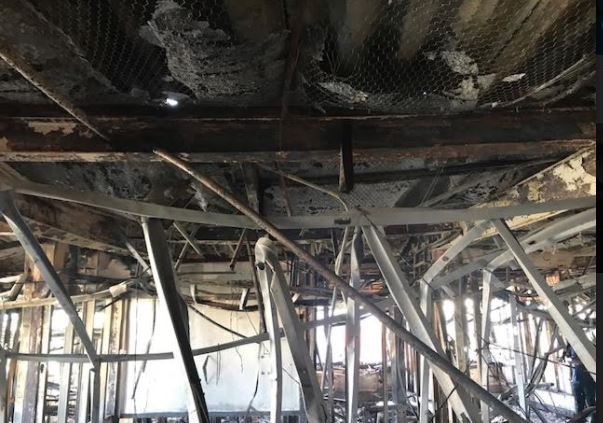 Detail of damaged press stand. Credit: elcaribe.com.do
Santo Domingo.- Public Works Ministry chief of staff Ramón Antonio Pepín informed Thursday that the losses resulting from the fire that gutted parts of the Quisqueya Juan Marichal stadium were estimated at RD$20 million.
Once the fall-winter baseball championship is over, the ministry will start assessing, designing and drawing up a budget for the repairs, which would be carried out in the coming year.
He said that the first phase would be to assess the structural damage, to guarantee that play could continue safely, before assessing the cost of repairing the electrical and plumbing systems.
Pepín recalled that the ministry had experience with similar situations like the fire that affected the Cibao Stadium.
The new structure will include fire prevention systems and the possibility of installing elevators is also being considered.
Meanwhile, National District fire chief Colonel Rafael del Rosario confirmed initial reports that the fire was caused by an electrical fault and that it was not an intentional act. A full report will be issued in the coming hours, he said.
The fire chief denied some media reports that firefighters had arrived late. On the contrary, he said, their rapid intervention had successfully contained the blaze to the press stand and prevented the fire from spreading to other parts of the stadium.
Colonel Del Rosario said that 16 firefighting units and two water supply units and a ladder truck were deployed to fight the fire on three fronts, to ensure that the flames did not spread to other areas. "Not just because of the scale of the blaze, but also the risk of secondary effects of gas cylinders, fuel containers or an electrical generator exploding."