Bani massacre convict set free; doesn't qualify for parole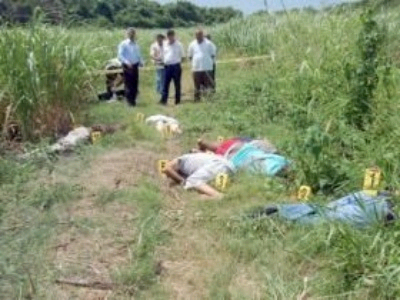 Bodies at Ojo de Agua.
Bani, Dominican Republic.- Justice Ministry documents show that in late December, one of the 16 convicted in the August 4, 2008, massacre at Paya, Baní (south), was released despite not being qualified for parole.
It says the inmate released is former Navy Lt. Commander, Andrés Tapia Balbuena, convicted in December 2010, and sentenced to 20 years in prison, but released together with six others.
Tapia's release takes place around 8 months before serving half of the sentence handed down by a three-judge court in 2010.
Seven Colombians were murdered in the Paya case, by Dominican military and civilians, to shake down the foreigners of 1,300 kilos of cocaine and some 20 million dollars, which never appeared.
Paya massacre rocked Dominican society
The Colombians Darío José Atencio (El Jefe and / or El Don and / or Cañarete), Eduardo Fabio de León Perozo (Negro Bollo and / or El Gordo), Jesús del Río Hans (Blanquito), Oscar Darío Naranjo Mejía (Fierrito), Antonio Zuluaga Mustiola or Cerino Enrique, Marín Gutiérrez, and Apolinar Altamirano Cuellar were murdered and their bodies found in a spot called Ojo de Agua.