One year in prison for 12 in 1,570 kilo cocaine bust on tanker ship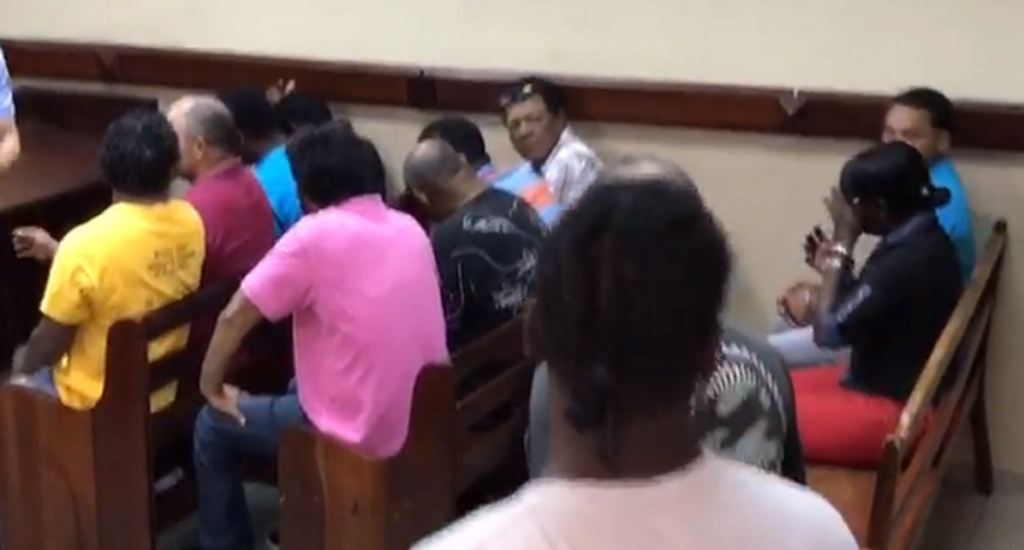 Kaluba drug bust indicted. Photo elnuevodiario.com.do
Santo Domingo.-  National District judge, Evelyn Rodriguez on Fri. sent  12 men to one year to await trial, charged for a shipment of 1,570 kilos of cocaine seized in tanker ship over the weekend.
Venezuelan José Quijada; Colombians Silvio Ibarra and Manuel Escobar; Cuban Pedro Betancourt; Nicaraguan Joel Ponce, Honduran Marbin Lambert; Dominicans Salvador Gómez, Rene Cuesta, Fermín Samboy, Damerides Gómez, Elvis Langomas and Teurison Valenzuela are being held in the case.
According to the Justice Ministry and Antinarcotics (DNCD), they began the investigation several months ago that included wiretaps of at least 50 phone calls, intelligence gathering, electronic surveillance and monitoring.
The indictment says a joint operation by the Dominican Navy, the US Coast Guard and the DNCD led to the arrest of members of the drug trafficking organization, which "operandi by introducing to the Dominican Republic undetermined amounts of drugs by sea, using diesel tankers."
The ship Kaluba, Tanzania registry IMO6828753, was intercepted, boarded and searched 200 nautical miles in international waters by the US Coast Guard, with 12 crew on board, who were escorted to Dominican territorial waters, and docked at San Souci port.