Scandal: Govt. agency pays US$300,000-month rent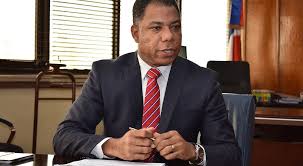 Radhamés del Carmen
Santo Domingo.- South Electricity Distribution Company (Edesur) administrator Radhamés del Carmen on Tues. defended the US$300,000 monthly (RD$15.0 million) contract to rent the company's headquarters.
Interviewed on ZOl 106.5FM, Del Carmen said the contract was first signed in 2000 during Hipolito Mejia's term in office, and renewed during the administrations of Leonel Fernández and Danilo Medina.
The official, who responded to a denouncement of the contract by ruling party (PLD) deputy José Laluz, said the rental cost was calculated based on the value per square meter of construction in Naco, one of the capital's most upscale sectors.
'Hogtied' till 2020
del Carmen added out that with the company's growth needs, one, two and three floors of the Cristal tower were rented for a cost of US $ 100,000 per month.
According to the official, the contract expires in the first quarter of 2020.