Various boats ply the Aruba-Dominican drug route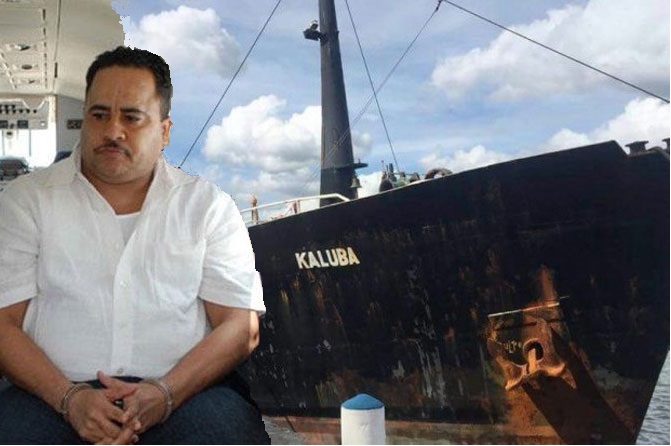 E. Guevara-DIaz. Maconi-Kaluba.
Santo Domingo.- The Justice Ministry investigates various ships linked to drug shipments from Aruba to the Dominican Republic by members of the drug trafficking network allegedly headed by Ernesto Bienvenido Guevara Díaz (Maconi).
The authorities have raided several properties of "Maconi" and of those connected to the case.
The organization had smuggled into the Dominican Republic undetermined quantities of drugs by sea, using tankers.
Thus far the Justice Ministry has seized more than 10 properties attributed to "Maconi," which will be assessed to determine their value. He is linked to the 1,570 kilos of cocaine seized aboard the Kaluba tanker on December 31.
Properties
Guevara's assets are located in Barahona, Paraíso and Enriquillo (southwest), while at least four residences, two discotheques, two lots, three farms, a car wash, fighting roosters and other businesses have been seized in the National District, whose worth is estimated in the millions.
Other boats
Meanwhile Customs director Enrique Ramírez revealed Wed. that five boats are suspected of bringing drugs to the country, of which three have been retained. He said in addition to the ring also smuggles fuels.
He said they have also detected ships that declared goods for agriculture, but were loaded with fuel.
In custody
Guevara Díaz, Ernesto Bievenido; Meraldo, Dante; Medina, Dante W .; Cuesta, Carlos Julio; Quijada, José; Ibarra, Silvio; Escobar, Manuel; Betancourt, Pedro; Ponce, Joel; Lambert, Marvin; Gómez, Salvador; Cuesta, René; Samboy, Fermín; Gómez, Damerides; Langomás, Elvis; Valenzuela, Teurison.