Prosecutor eyes 74 companies linked to Odebrecht's 'bagman'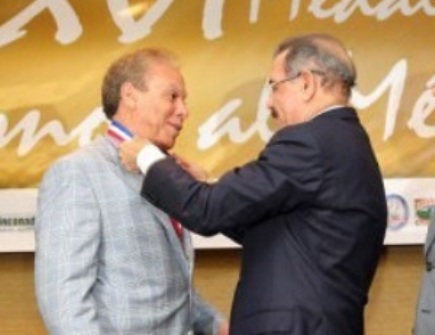 Dubious distinction. A. Rondon, president Danilo Medina. File.
Santo Domingo.- The Justice minister has asked Internal Taxes (DGII) for detailed reports on the tax records since 2000, of 74 companies linked to businessman Ángel Rondón, indicted in the Odebrecht case.
Jean Alain Rodríguez, in the missive to the DGII, requested the list of real properties under Rondón's name and their sale contracts.
Also the names of the individuals or legal entities, whether companies, foundations and consortiums in which he figures as owner of shareholder. The official lists 74 companies, most with their National Taxpayer Registry (RNC).
Odebrecht has named Rondon as middleman for the US$92.0 million paid to officials and former officials in exchange for lucrative State contracts.
In a search of the DGII website, outlet Diario Libre found that 47 are active, 10 inactive, nine were written off, while six others are not registered.
"This information is important for an ongoing investigation, so we appreciate your customary collaboration as soon as possible," said Rodriguez in the missive dated September 25, 2017.