Venezuela crisis talks in Dominican Republic extended again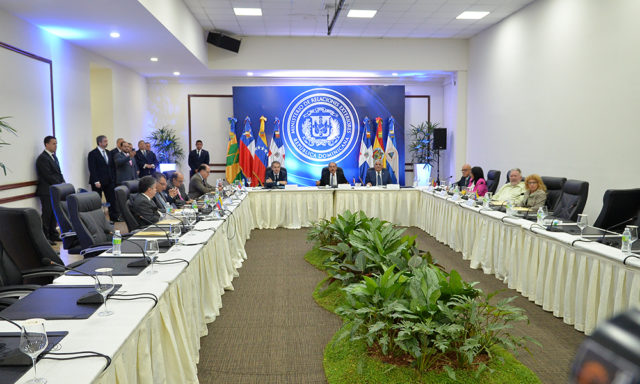 Santo Domingo.- President Danilo Medina Tues. night announced that the Venezuelan opposition was given until 10:30 a.m. Wed. to make observations to a proposed agreement drafted by he, former Spanish prime minister José Luis Rodríguez Zapatero, foreign minister Miguel Vargas and the other officials from accompanying countries.
The term was granted after more than six hours of negotiations and where the opposition delegation left the room for 20 minutes to agree on some issues, Medina said.
"The dialogue facilitators committee prepared a document that includes all the discussions aimed at reaching an agreement, they were delivered to the parties and we have a wait time until tomorrow at 10:30 am to receive the observations that the opposition makes which has asked for time to review it," Medina told the media.
Upon his arrival Venezuelan government delegation spokesman Jorge Rodríguez said, and reiterated it at the end of the meeting, that they had already reached an agreement and that they came to the country to formalize the protocol.
He said the dissent emerged after opposition delegation spokesman, Julio Borges, received a phone call from Bogotá.
Agreement
At the end of the meeting, after the Medina's announcement, Jorge Rodríguez proceeded to sign the document, together with his sister, National Constituent Assembly president Delcy Rodríguez,
In that document, he said all of the opposition's requests, the electoral guarantees, and the humanitarian channel they had requested, were included.
At the beginning of this day, the Foreign Ministry had set the stage for the signing of the agreement, and Rodriguez, said -ball in hand- that they were ready to sign.