Dominican Rep. to host Caribbean region Health Tourism and Wellness Congress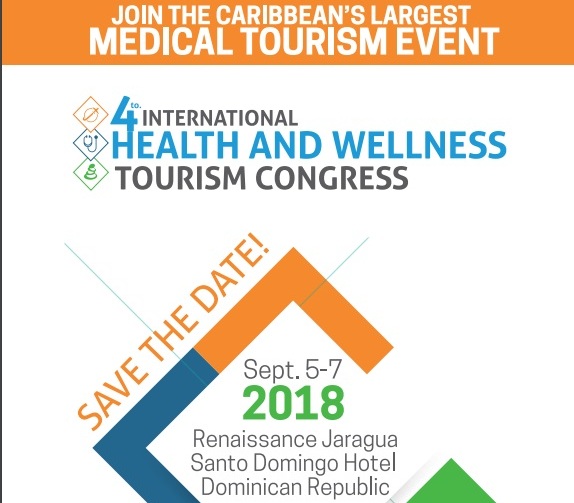 Santo Domingo.- The 4th International Health and Wellness Tourism Congress is going to be held in Hotel Renaissance Jaragua of Santo Domingo, Dominican Republic from Sept. 5 to 7, 2018.
This important event is organized by the Dominican Health Tourism Association and AF Comunicación Estrategica and is considered the main activity in the sector throughout the Caribbean and Central America.
The congress is expected to provide a platform for innovation, multi-sectoral integration, education and business development and will be a meeting point for major national and international health centers, worldwide medical tourism authorities, diplomatic community, medical tourism facilitators, large buyers of international health and executives of US and Canadian hospitals.
The agenda consists of activities, business and investment meetings and presentations by local and international experts on topics such as Health Tourism at a global and regional level, Culture of quality and continuous improvement, Innovation and Competitiveness, Human resources in Health and Tourism, Facilities for local and international investment in the Dominican Republic.
Also Innovations in the insurance market, financial sector and medical devices free zones, the Wellness industry, Communities for retirees, Telemedicine, Marketing in Health Tourism, Advances in Medical and Pharmaceutical technology and Second opinions and referrals overseas.
The Dominican Republic has long been one of the most popular destinations in the Caribbean for Americans and Europeans to enjoy its getaways.
Strategically located, the Dominican Republic offers excellent connections to the Americas and the rest of the world and is one of the country's that has been experiencing the most important process of economic growth in Latin America in recent decades.
Currently various Dominican institutions have memberships, international certifications such as ISO 9001 in its clinical laboratories and blood banks and the most important health centers in the country are in the process of international accreditation.
Also some of the top hospitals have international departments responsible to facilitate the transfer, effective communication, translation services, treatment and continuity of health care for tourists. DR has several universities that train are foreign professionals, mainly from North America and have dual degree agreements with universities or the first world.
Some additional specific advantages of the Dominican Republic, which promote health tourism, are the following:
Proximity and close ties with the United States and Canada
Citizens of the United States, Canada and several European countries do not require visas
There are numerous air links with all parts of the world, particularly in North and South America and Europe.
Immediate care without waiting lists
Excellent road infrastructure and satellite communications.
Favorable climate all year wound and sun and beach tourism, ideal for rest and recovery
World-renowned anti-aging and spa wellness services
Friendliness, warmth and hospitality of the Dominican staff, with respect to privacy
Economic stability and security.
For more information visit the Congress web page: http://congreso.adtusalud.org/en/congress-2018/sobre-el-congreso/