Tax burden is Dominican industrialists' top concern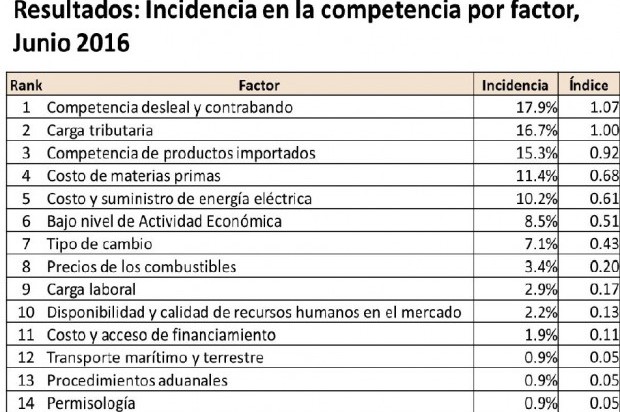 Previous ranking
Santo Domingo.- The tax burden became the main source of concern for Dominican industrialists in the October-December 2017 quarter, with 16%, at first place in the Ranking of Factors that hinder the competitiveness.
For the Dominican Republic Industries Association (AIRD), the "competition from imported products" ranks second, "unfair competition and contraband" is third, followed by the "cost of raw materials," in fourth.
The "tax burden" has been first or second since the Index emerged in the first quarter of 2015, except for the July-September 2017 quarter when it ranked third.
Meanwhile the "cost of raw material" drops from second to fourth in the AIRD ranking.
In a statement, Industries says the ranking is part of its quarterly Industrial Situation Survey and which, in this occasion, corresponded to the last quarter of 2017.
"There are a total of 14 factors considered key for a competitive national industry. The Ranking determines in order of importance which are the main factors that negatively affect the competitiveness of the industrial sector, as well as its importance and weight in a given conjuncture period," says the AIRD.