Storms wreaks havoc in US NE; 11 Dom. Rep. flights cancelled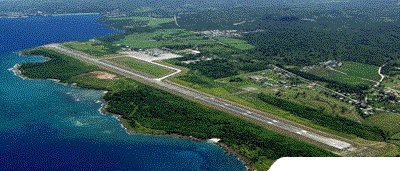 Luperon
Santo Domingo.- Nor'easter Toby, which is pounding  the northeastern US, has prompted Jet Blue and United to cancel at least 11 flights, to and from New York and Newark.
At Las Americas airport, Jet Blue flights 29l0 and 4l0 were canceled for New York, while United reported the suspension Wed. of its flight l473, stranding hundreds of passengers waiting to be checked for travel. to both US cities.
In Santiago's Cibao airport in, Jet Blue and United canceled flights l624, 325, l625, l536, 2636 and 894, from New York and Newark.
Aerodom management company said Jet Blue, and United canceled flights 627 and l528, at Puerto Plata's Luperon International.
It was reported that hundreds of passengers were stranded at both Luperón and Cibao airports and many decided to wait at home until the flights return to normal.
The storm is wreaking havoc in New York City where heavy snow forced schools and government offices to close.