Dominican Rep. requests extradition of Haitians linked to murders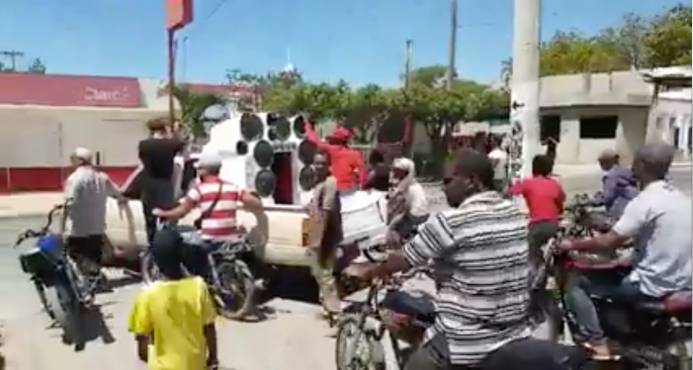 Pedernales pickup truck warns Haitians to leave.
Santo Domingo.- The Justice Ministry on Thur. said it requested the extradition of the Haitian nationals identified as Luis Bom and Francisco Bom, charged with murdering in late Feb a Dominican couple in Pedernales (southwest), where locals took to the street to demand the deportation of all Haitians.
Justice minister Jean Alain Rodríguez said the request is based on the Extradition Convention signed by the Dominican Republic and Haiti.
"Article 1, that agreement establishes that each of the signatory States undertakes to deliver to individuals who are in its territory and are accused or have been sentenced, provided that the requesting State has jurisdiction to judge the criminal act that is attributed to the individual claimed," the official said.
In a press release, Rodríguez said both national and international law guarantee all rights to due process for Francisco Bom and Luis Bom.
He claimed that Luis Bom was arrested in the neighboring country of Haiti when he was on board the motorcycle owned by the deceased Julio Reyes today while his brother, Francisco Bom has not yet been arrested.
In a meeting with local officials and Defense minister Rubén Paulino, Rodríguez said the extradition request was officially forwarded to Haiti's Justice Ministry.
"We've completed the legal process so that these Haitian citizens can be extradited from their nation to the Dominican Republic," Rodriguez said
Julio Reyes Pérez was stabbed to death in his farm, while his spouse Neyda Miladis Urbáez died from her injuries several says later.