'Feared' defendant's RD$14.0 M keeps witnesses from testifying: El Nacional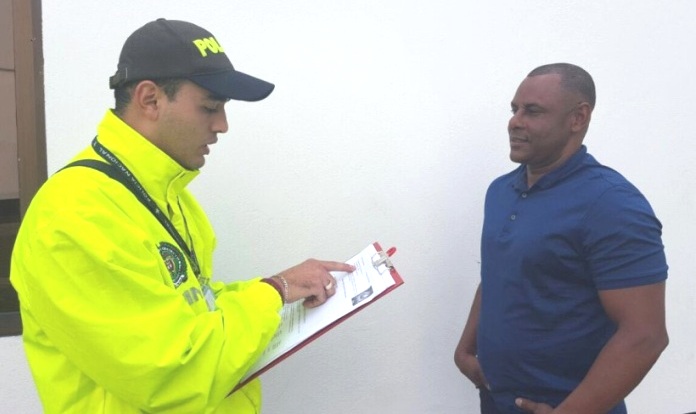 Matías Avelino Castro, detained in Venezuela
Santo Domingo.- Around RD$14.0 million has been distributed among the victim's relatives and witnesses not to appear at the hearing of the trial against alleged mastermind of the death of the journalist José Silvestre, who seeks an acquittal in a San Pedro de Macorís court.
Newspaper El Nacional on Fri. reports that a Justice Ministry source confirmed that the money had been distributed by the accused Matías Avelino Castro, who was extradited from Colombia.
The Justice Ministry source also complained that the prosecutors have had  to resort to the bailiffs to guarantee the presence of some witnesses in the trial.
"After having testified in the first hearing, all the victims have desisted, even with subpoenas. The accused paid 14 million pesos, and none gos to court. The witnesses have disappeared or have left the country," the source said.
The outlet reports that the distribution of money seeks to facilitate Avelino Castro's release. "In La Romana and San Pedro de Macorís Castro is known as an influential man whom many fear."
According to investigators, Avelino Castro is also a fugitive in Puerto Rico, where he escaped from a prison on that island several years ago.
The defendant is being held in a Boca Chica jail from where he's escorted to court in two modern SUVs and lawmakers and government officials visit him in his cell  .
Conspicuous absence
"The courtroom shines from the absence of the victims, not one of the relatives attends, the information we have is the payment of 14 million pesos," the source said.
Around 10 witnesses are no-shows, including some prosecutors who carried out the investigation.
Some of the witnesses have also asked the prosecutors not to divulge their participation, on fear reprisal by the accused.
The source said that in the five years that Avelino Castro was a fugitive in Colombia, he amassed a large fortune, "allowing him to make large investments in the Dominican Republic and that  he's handled in court as freely as if he weren't an inmate.
Murdered witness
On Monday, retired Police captain Cándido Medina Sánchez was gunned down in the city by two men on motorcycles, who took his weapon. He was one of the prosecution witnesses.