Medina receives credentials from five new ambassadors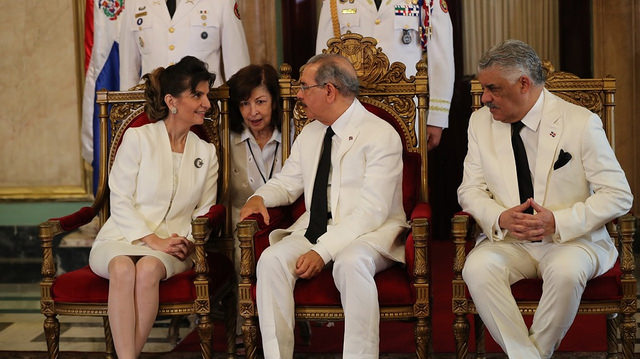 Image: presidencia.gob.do
Santo Domingo.- President Danilo Medina received credentials from five new ambassadors at the Presidential Palace Tuesday. They are Didem Ela Görkem Gökce representing Turkey, Bibs Bettina Rodríguez De Leets from Nicaragua, Jerobeam Shaanika from Namibia, Hawa Diakite from the Republic of Guinea and Vladimir Eisenbruk from the Czech Republic.
The ceremonial event at the Ambassadors' Hall started at 11:00 a.m. to the sound of the Dominican national anthem by the presidential guard band.
Didem Ela Görkem Gökce from Turkey was the first to present her credentials to the president, studied International Relations in 1993, at the Political Sciences Faculty of the University of Ankara. She speaks English and French
She was followed by Bibs Bettina Rodríguez De Leets from Nicaragua. A teacher with 26 years of experience at the National Autonomous University of Nicaragua and the American University, she worked as consul general in Venezuela.
Jerobeam Shaanika from Namibia has a doctorate in International Relations and Diplomacy from the Ecole Des Haute Etudes Internationales in Paris.
Hawa Diakite from Guinea is a civil administrator in International Law and International Relations and served as extraordinary and plenipotenciary ambassador in Cuba.
Vladimir Eisenbruk of the Czech Republic studied at the Faculty of Literature and Philosophy at Charles University in Prague, specializing in modern English philology and Portuguese.
Foreign Relations Minister Miguel Vargas Maldonado also attended the event.