First aid kits for road safety during Easter break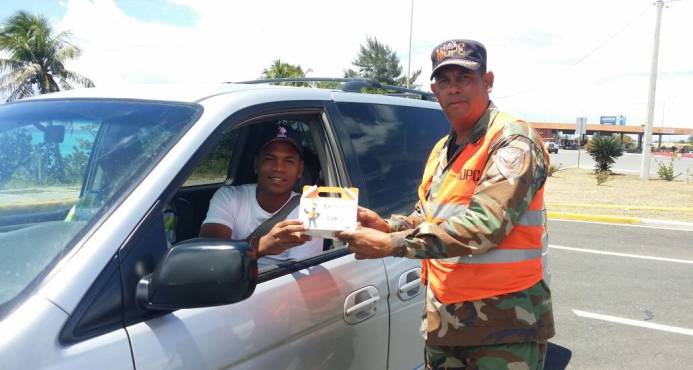 Handing out first aid kits to drivers. Photo: diariolibre.com
Santo Domingo.- The Ministry of Public Works and Communications (MOPC) Military and Police commission is distributing first aid kits as a preventive measure, as part of a broad-based operation targeting the country's highway toll areas, supported by a media campaign.
The operation consists of handing out a kit that contains first aid items and medical supplies and providing information to drivers to ensure they drive sensibly and safely.
The kit contains alcohol, sterilized gauze, 500mg acetaminophen, 10mg loratadine, sugar, loperamide capsules BP 2mb, adhesive plasters, elasticated bandages and gloves.
The operation is being coordinated by General Estanislao Gonell Regalado, director of the Military and Police Commission, who said that they are handing out the first aid kits accompanied by messages for safe driving under the instructions of Public Works and Communications Minister Gonzalo Castillo, because President Danilo Medina has made it his priority to increase prevention work and improve road safety in the country.
He encouraged the public to be sensible while driving in order to prevent accidents and regrettable incidents. "Do not exceed the speed limit," he stressed. The MOPC is calling on drivers to be especially careful during Semana Santa.
The services offered to the public during the Easter break and all year round include highway patrols, mobile workshop and puncture repair, tow trucks and ambulances nationwide, to provide assistance to citizens in need, with a large number of vehicles.
The patrols will be on standby to provide services in case of any problems that may arise on the roads like punctures, mechanical failures, overheated engines, fuels, road accidents, security, etc.