Health authorities rule out diphtheria cases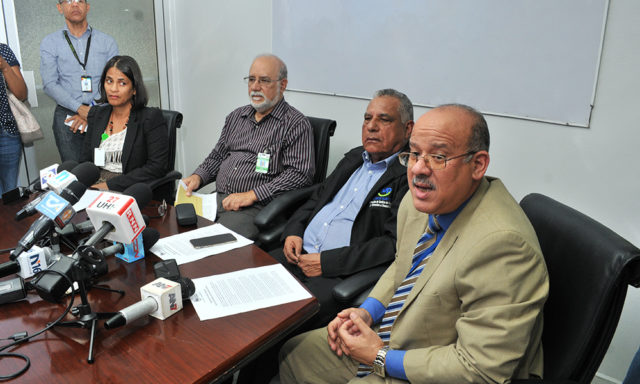 Press conference by health authorities. Image from elcaribe.com.do
Santo Domingo.- On Wednesday afternoon the Ministry of Public Health informed that the National System for Epidemiological vigilance had identified seven possible cases of diphtheria, which were ruled out for not presenting the symptoms of the disease.
These symptoms include difficulty swallowing accompanied by a whitish-grayish membrane on the throat.
The cases that were ruled out include a 72-year old man who died after being treated at a health center in La Romana, a five-year old girl in San Luis, Santo Domingo East and a 10-year old boy in Santo Domingo North, as well as a three-year old child in Palenque, San Cristóbal.
The information was provided at a press conference by vice minister for collective health Héctor Quezada and doctors José Manuel Puello, Raquel Pimentel and Zacarías Garib Arbaje, general directors of Public Health Management, Epidemiology and the Extended Immunization Program.
Quezada flatly denied there was a diphtheria outbreak in the country, adding that the disease has been rare during the past few years, without a single case between 2013 and 2015, only three in 2016, and one in 2017. The only suspected case, that of the four-year-old boy who died, involves a patient who had entered the country from Haiti. Therefore, said Quezada, there was no need for public alarm.
Epidemiology director Raquel Pimentel advised people to maintain their vaccination schedules up to date especially if planning to travel to countries where the disease was present, such as Venezuela and Haiti.
The epidemiological authorities are still awaiting the results of laboratory tests on the four-year old boy from Haiti and the cases of two women with suspicious symptoms from Los Alcarrizos and Pedro Brand in order to rule out or confirm the presence of diphtheria.