President retires 235 military officers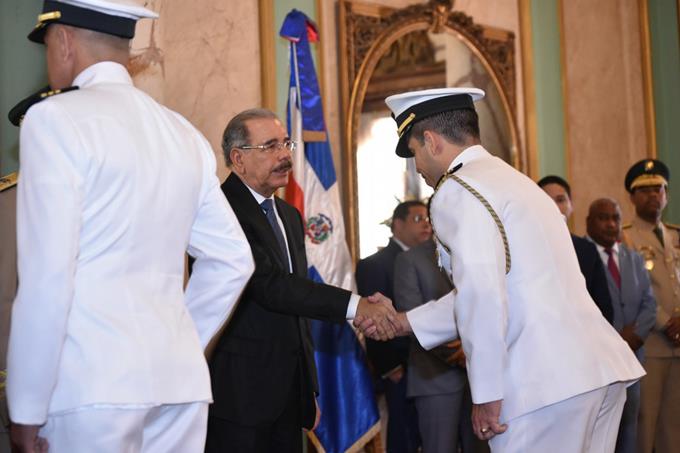 President Danilo Medina. Image from listindiario.com
Santo Domingo.- The Executive Branch retired 235 high and mid-ranking officials from the branches of the security and military forces for length of service, including 12 generals. Three colonels were promoted to the rank of general and retired.
The generals include six from the National Police and six from the Armed Forces.
The Executive also promoted to the next rank and retired eight lieutenant colonels, 16 captains, 11 colonels and four majors, while the rest were retired with their existing rank.
Twenty colonels, 24 lieutenant colonels, 25 majors and 24 captains were retired with their present rank, all from the military.
With the exception of the six National Police generals, all of the officials who were retired belonged to the Ministry of Defense (Navy, Army and Air Force).
The officers will receive pensions for having completed the period established by law.
The retirements are listed in decrees 122-18 to 127-18.
The National Police generals who were retired are: Nelson Rosario, Pablo Almonte Morales, Rafael Calderón Efres, Víctor Antonio Hernández, Aquino Radhamés Reynoso, José Sigfredo Fernández Fadul and Tirso Antonio Roa Castillo.
José Lorenzo Peña García was promoted to the rank of vice admiral and retired; Luis D. Pichardo Matos and Francisco José Gil Ramírez, from the Army, were promoted to the rank of major general and retired.
Air Force colonels Froilán Emilio Pérez y Pérez, Marino Pacheco Varela and Luciano Nolasco Cruz were promoted to general and retired.
Rafael de Jesús Polanco was also promoted to Navy real admiral and Licurgo E. Yunes was promoted to Police general.