Govt. 'loudspeaker' turns on his boss in Odebrecht fiasco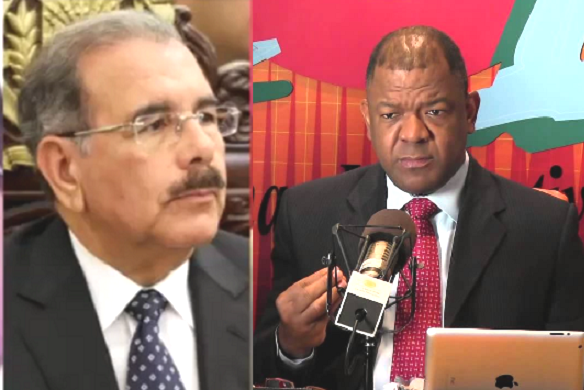 D. Medina. J. Martinez P. photo losmocanos.com.do
Santo Domingo.- The journalist Julio Martínez Pozo on Tues. warned president Danilo Medina that a an alleged pact to shield Odebrecht 's local associates, will have a "very high" political cost.
Martínez, one of the many "bocinas" (loudspeakers) allegedly on the Presidency's payroll, is under investigation over alleged links to the Odebrecht mafia in the country, which funneled US$92.0 million in bribes.
"When things that are under that agreement are uncovered, society will be very disgusted, more than with all this," Martinez said on ZOL101FM.
He stressed that the supposed pact to hide the consortiums of the Brazilian company can spark a scandal as big as Odebrecht's. "With whom has the pact been, with whom is it that they (the consortiums) have made a pact for their tranquility? Who've been the beneficiaries of the pact for the consortium's tranquility?"
Martinez, investigated together with the also "loudspeaker" Dany Alcántara, stressed that Odebrecht has repaid the Dominican State US$184.0 million, but the company's local partners haven't returned a penny. "In the end who'll pay the political consequences of all this will be president Danilo Medina."