Women picket Congress to demand decriminalized abortion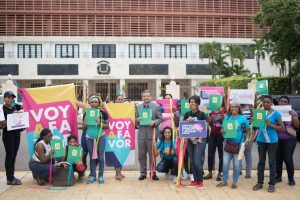 Picket. Photo elnuevodiario.com.do
Santo Domingo.- A group of women, staged a picket in front of Congress on Tuesday to demand decriminalized abortion in three causes within the Penal Code and guarantees of women's rights.
With banners, loudspeakers and chants in favor of women's rights, the activists criticized the legislation which criminalizes abortion without exceptions and called the lawmakers to "make history" by approving a Penal Code that allows the interruption of pregnancy when the mother's life is at risk, when it is the product of rape or incest and when the fetus is unviable outside the uterus.
"The Dominican State maintains an ambiguous position on the decriminalization of abortion in three causes through the Penal Code," said Carolin Lizardo of the Women and Health Collective.
The activists picketed in front of Congress from 10am until noon Tuesday.