Santiago mayor demands deporting Haitians for 'casting illegitimate roots'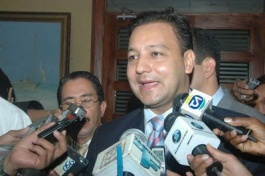 A. Martinez. File.
Santiago.-  Santiago mayor, Abel Martinez, on Tuesday demanded "appropriate measures" to ensure that illegal Haitians "casting illegitimate roots" in the Dominican Republic are returned to their country.
"We demand that the more than one million illegal Haitians in our territory taking illegitimate roots are invited to leave the Dominican Republic or take the appropriate measures to ensure that they are sent to their country. It's time to act," Martinez said in a video posted on Instagram.
Hr said the process to regularize foreigners is being carried out with "levels of contamination."
"As mayor, as a citizen, as a Dominican I don't recognize the process of regulation that is being carried out due to the contamination levels that exist in it, due to the massive forgery of these documents," said the former president of the Chamber of Deputies.
He added that he denounced and presented evidence of that situation a year ago, but "we are worse today that our sovereignty costs 800 pesos."