Deputy, 10 officials charged in State land sale scandal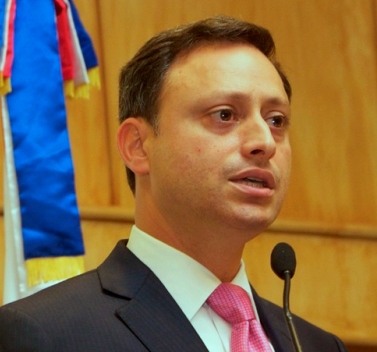 J.A. Rodriguez.
Santo Domingo.- The deputy Antonio Ozuna and 10 officials and business leaders have been charged in the scandal over the sale of State land in the Los Tres Brazos subdivision, whose arrests are being carried out Thurs.
Justice minister Jean Alain Rodríguez made the announcement and labeled the fraud as one of the widest-reaching ever committed in the country.  17,000 lots were sold for RD$80.0 million, resold for RD$200.0 million, affecting 63,000 people
The 11 charged are the former head of the State Businesses Conglomerate (Corde), Leoncio Almánzar; his former legal consultant, Luis José Cruz; former Corde real estate manager Manuel Aybar and former National District registrar Rosabel Castillo.
Also current National Title Registration director Domingo Gerardo Lebrón, Carlos Aris Gómez and Julio César Gómez, who are the main shareholders of the company Infepa.
Juana Inés Gómez Williams, sister of deputies Gómez Williams and principal shareholder and representative of the entity Proyecciones Inmobiliarias Gómez; José Enrique Dominici, Titulatec's main shareholder; and the surveyors Antonio Ozuna Nolasco and Adonis Ruiz.
"They conspired to sell the public lands of Los Tres Brazos, lands that did not belong to them and belong to the inhabitants of Los Tres Brazos and all Dominicans but particularly the Dominican State," the prosecutor said.