Barrio lands "sold by defunct company"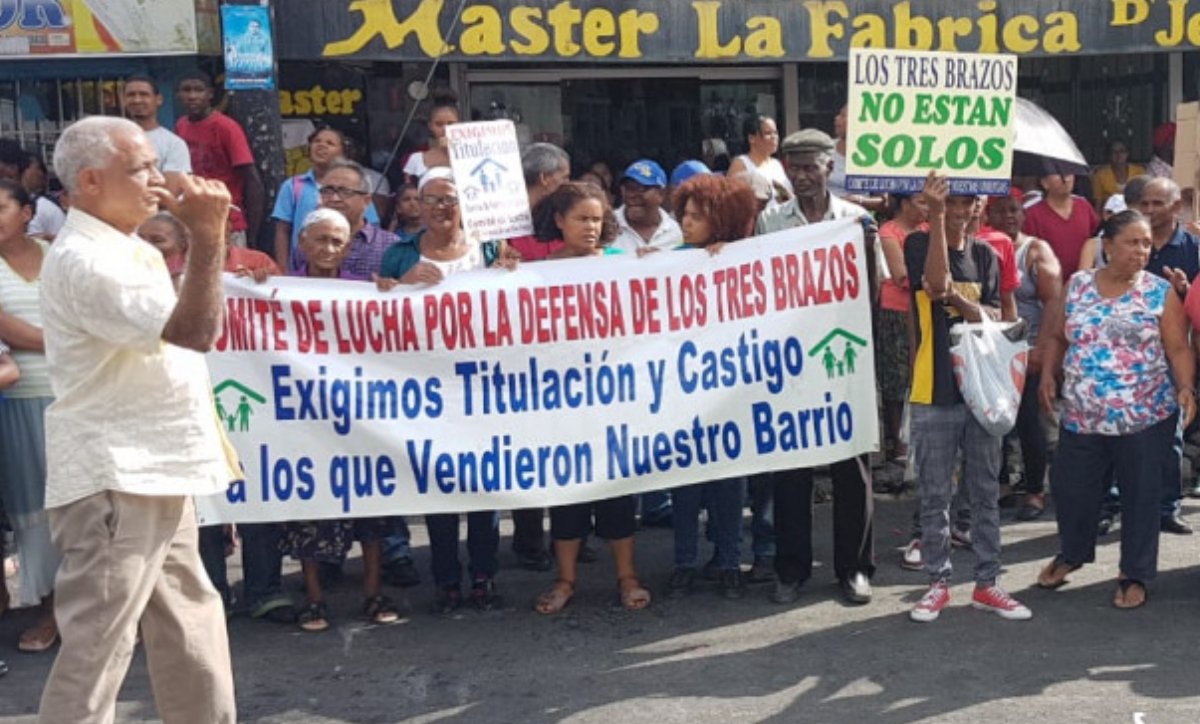 Local residents protest corruption scandal. Image from eldia.com.do
Santo Domingo.- The former director of the Dominican Corporation of State Enterprises (CORDE), Leoncio Almánzar Objío, sold one of the plots in the Los Tres Brazos neighborhood without the approval of the Board of Directors, at RD$81.03 per square meter below the sum it had been purchased for in 1995.
According to Prosecution case file, on February 5th 2010, Almánzar Objío, representing the Fábrica Dominicana de Cemento and CORDE, signed a sale-purchase contract with Inversiones Fernández Parache & Asociados (Infepa) with Domingo Geraldo Lebron, also accused in connection with the case, of parcel 153-A-1, cadastral district No.15 of the National District for RD$4,000,000.
According to the Prosecutor's Office, the State acquired these lands for RD$102 per square meter, but 15 years later they were sold for just RD$21 per square meter.
The same contract established the sale for RD$72,000,000 of parcel 153-A-2 whose property rights were still registered by the Dominicana Industrial de Calzados (Doinca). The prosecution authorities say that the CORDE ex-director signed the contract in the name of Doinca, ten years after the company was dissolved.
"The accused, Leoncio Almánzar Objío, appropriated these plots in benefit of Infepa despite the expropriation that took placed in 1976 of parcels 153-A-1 and 153-A-2 of cadastral district no. 15 of the National district, as well as the sales agreement reached in 1995, of parcels 153-A-1 and 155 of the same cadastral district".
Judge José Alejandro Vargas is scheduled to hear the pre-trial custody petition against Almánzar Objío, Domingo Geraldo, Irving José Cruz Crespo (former legal consultant of the entity), Manuel Aybar Ferrando (former property manager), and Rosabel Castillo Rolffot (National Director of the Land Titles Registry), at 10am this morning.
Pretrial custody is also being sought for Carlos Aris Gómez Williams and Julio César Gómez Williams, shareholders in Infepa; Juana Ynés Gómez Williams, sister of the Gómez Williams brothers and main shareholder in the GOWI company; José Enrique de Pool Dominici, main shareholder at Titulatec, and surveyors Ana Antonia Ozuna Nolasco and Hadonis Ruiz Mella.