Greens parallel rally in NYC against Dominican Govt. corruption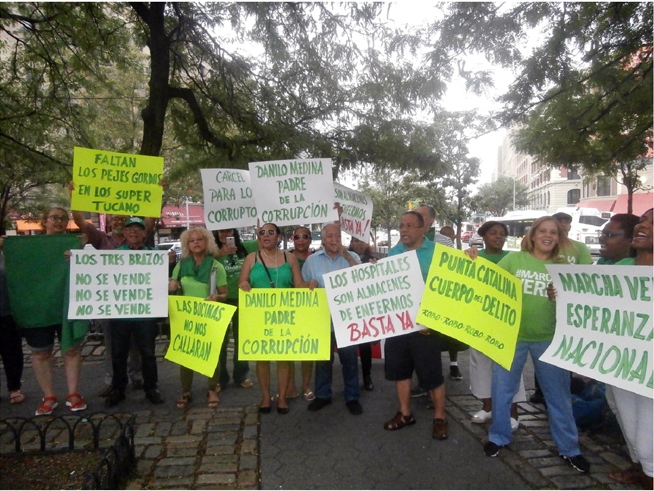 Photo elnuevodiario.com.do
New York.- Marcha Verde (Green March) leaders in New York on Tues. called on Dominicans to reject corruption and impunity in a rally on Manhattan's 6th Av. next Sunday, simultaneously with the March of the Million in Santo Domingo.
Green March spokesman in New York José González said Dominican citizens send a clear and forceful message that the Institutional disorder in the Dominican Republic's Government, led by Danilo Medina and the PLD party, will no longer be tolerated.
He said they also demand transparency, honesty and social inclusion of the people, with justice, equslity, health, education and housing.
In a press conference in Upper Manhattan's Juan Pablo Duarte plaza, the activist said he expects the massive support in Sunday's protest to demand honesty from the men and women in govt.
"The expectation is for the world to know that the Dominican Republic is in the hands of a group of gangsters, corrupt men and women, and that the country will not tolerate being in the hands of a group of corrupt, a Justice Minister who's a godfather of corruption and of a deaf, dumb and blind president," Gonzalez said.