Greens demand Dominican Republic leader step down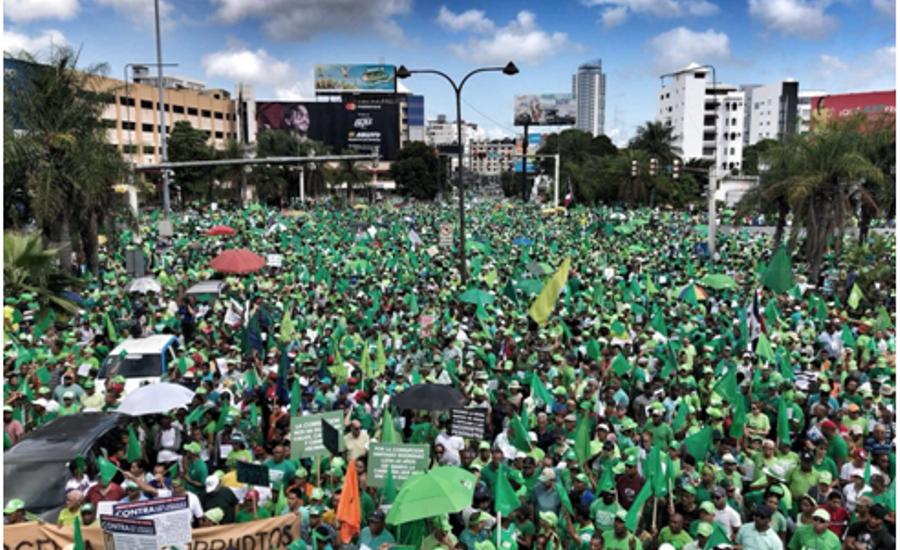 Green Protest. Photo elnuevodiario.com.do
Santo Domingo.-  At the end of the massive, "March of the Million" protest, the grassroots movement Green March on Sunday announced that they'll continue until those who stole taxpayers' money are sent to jail and demanded president Danilo Medina's impeachment.
"President Danilo Medina must be subjected to impeachment and an independent criminal investigation that guarantees exemplary sanctions," said the manifesto read by members of the group from a stage erected in front of Congress.
"We're a people united and standing firm,!" the people chanted.
"We proclaim our citizen's unwavering commitment," the manifesto continued, "to remain active, standing up and fighting to get the congressmen, officials, ex-presidents, businessmen and others responsible for negotiations, and to benefit from the Dominican contracts with the multinational mafia, Odebrecht and its local partners, are duly prosecuted and sentenced, starting with President Danilo Medina, client and electoral beneficiary of the international criminal Joao Santana," Medina's top political strategist until the scandal broke.
Seven people face a criminal trial in the case, former officials and a senator among them, accused of taking US$92.0 million in bribes from Odebrecht between 2001 and 2014 to get contracts in the country.