US Coast Guard deports 324 Dominican boatpeople this year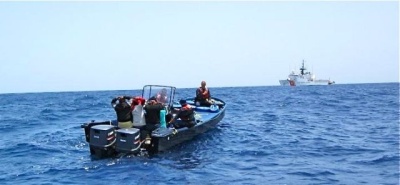 Interdiction at sea. File.
Santo Domingo.- The United States Coast Guard in Puerto Rico has repatriated more than 300 Dominican boatpeople who've tried to reach that island from Dominican territory so far this year.
Data compiled by El Dia show that the undocumented travelers have been intercepted by authorities on the high seas after crossing the Mona Passage, on yachts and makeshift boats "yolas."
While others have managed to reach towns in the neighboring island after slipping by Dominican Navy patrols at sea.
According to the figures, from January 1 to August 15 of this year the US Coast Guard has seized 26 boats and detained 324 Dominicans.